All-on-4 Dental Implants – Alexandria, VA
Four Dental Implants,
One Beautiful Smile
Some patients assume that it will take many implants to support a new denture, but in many cases, four is enough to give your new smile all the support it needs. The All-on-4 technique not only minimizes the number of implant posts that we need to use, but can also make it possible for those who have experienced bone loss to get implant dentures. To learn more about All-on-4 dental implants from our Alexandria, VA oral surgeon, contact Northern Virginia Oral, Maxillofacial & Implant Surgery today.
Why Choose Northern Virginia Oral, Maxillofacial & Implant Surgery for All-on-4 Dental Implants?
Board-Certified
Oral Surgeons
Focus on Patient Care
and Satisfaction
Long-Lasting, Durable Implant Dentures
What are
All-on-4 Dental Implants?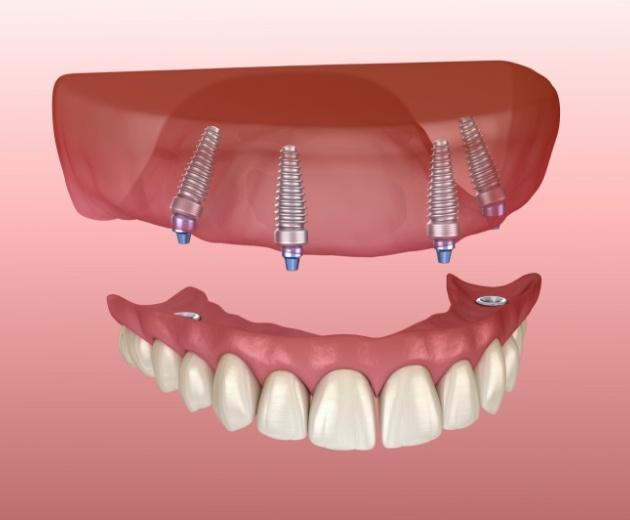 All-on-4 implants are a revolutionary method for keeping your dentures more securely and comfortably attached in your mouth. With All-on-4 implants, the team at Northern Virginia Oral, Maxillofacial & Implant Surgery secures an entire denture using four strategically placed dental implants.
Dental implants are tiny titanium posts an oral surgeon positions within your jawbone. Because titanium is biocompatible, your implants fuse with your jaw, effectively mimicking the form and function of natural tooth roots. This enables them to provide healthy stimulation to your jawbone and serve as a sturdy foundation for your denture, which abutments connected to your implants hold in place. All-on-4 implants are an effective system for both your upper and lower jaw.
Benefits of
All-on-4 Dental Implants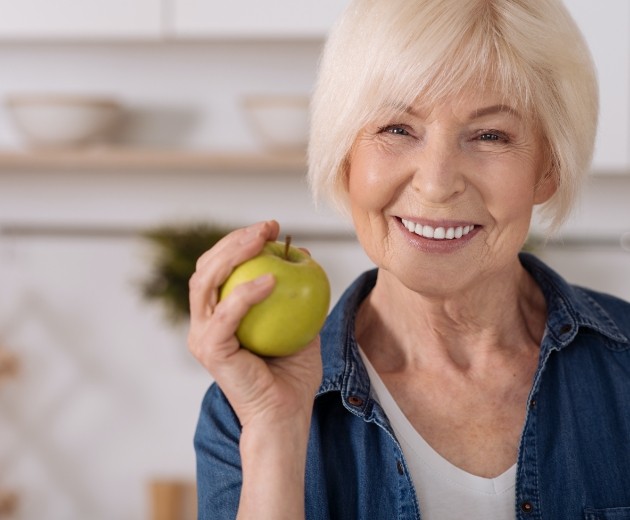 Unlike traditional dentures, which use suction or adhesive to stay in place, All-on-4 implants attach to your jawbone, which is a more faithful recreation of the natural structures of your mouth.
By anchoring to your bone, All-on-4 implants provide you with a more secure, comfortable, and natural-looking denture, doing away with the need for messy adhesives and enabling you to eat and speak with much greater ease.
All-on-4 implants also provide stimulation to your jawbone, which has several benefits in and of itself. Your bones are living tissues that are in a constant state of regeneration. When you're missing teeth, your jawbone doesn't receive as much stimulation, and ultimately starts to shrink because it is unneeded.
This process, called resorption, leads to bone loss and a sunken-in appearance in the face. It also leads to your jaw changing shape over time, which, in turn, requires you to continually reline or replace your dentures as they no longer fit.
All-on-4 implants prevent all these problems from occurring because they directly connect your dentures to your jawbone and give it all the healthy stimulation that it'd otherwise be missing.
All-on-4 Dental Implants
in a Day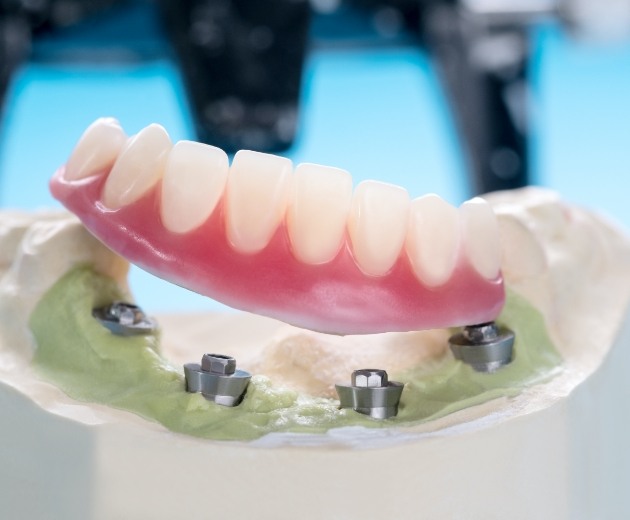 One of the major benefits of All-on-4 implants is that you can have your extractions performed, your implants placed, and your dentures attached all in one day! Thanks to advanced 3D imaging software and a unique method of placing your implants, All-on-4 implants enable you to replace your smile without having to endure the lengthy waiting period that traditional implants or dentures typically require.
The Cost of All-on-4 Dental Implants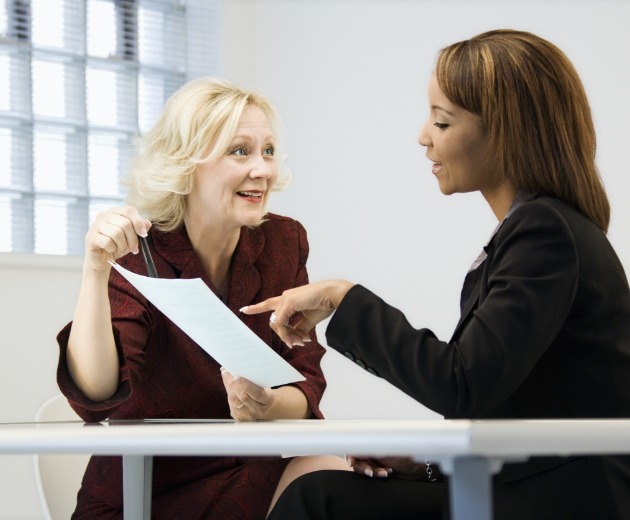 The health benefits and durability that All-on-4 implants have make them significantly more cost-effective than regular dentures in the long run. The prevention of atrophy in your jaw ultimately saves you money on relining and replacing dentures as it changes shape.
And because All-on-4 implants keep your smile generally healthier, you have less risk for developing bone and gum conditions that might otherwise require expensive and invasive procedures to treat.
Improve your denture experience today by scheduling an All-on-4 implants consultation with the team at Northern Virginia Oral, Maxillofacial & Implant Surgery. You can book your visit by phone or online.