Dental Implants – Alexandria, VA
Setting the Foundation
for a New Smile
Many dentists recommend dental implants to replace any number of missing teeth, but they often lack the training and experience to place them. Since dental implants are meant to last for decades, the procedure should only be performed by a true expert, which is where our team at Northern Virginia Oral, Maxillofacial & Implant Surgery comes in. We'll handle the surgery so that you can fully enjoy the benefits of what many call the gold standard for replacing teeth.
Why Choose Northern Virginia Oral, Maxillofacial & Implant Surgery for Dental Implants?
Board-Certified
Oral Surgeons
All-on-4 Implant
Dentures Available
State-of-the-Art Guided Implant Surgery
What Are
Dental Implants?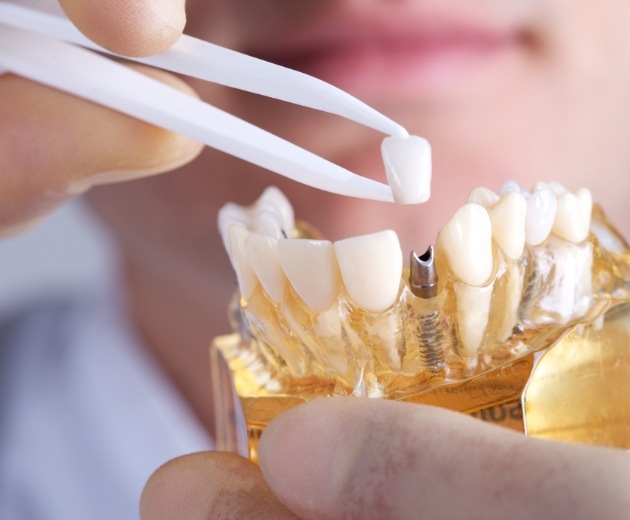 Dental implants are artificial tooth roots that an oral surgeon embeds into your jawbone. Made of titanium, a biocompatible metal, implants fuse with your jawbone as you heal from the surgery. This process, called osseointegration, makes your implant a permanent and extremely durable replacement for your natural tooth root.
While a dental implant replaces your tooth structure below your gum line, it also serves as an anchor onto which the team can affix a crown, bridge, or denture using All-on-4® implants. The team at Northern Virginia Oral, Maxillofacial & Implant Surgery designs your restoration so that it fits perfectly into your smile, supports a healthy bite, and helps you more easily chew your food.
They even give you the option of using porcelain for your restoration, which has a similar color and translucent character to your natural tooth enamel, and therefore blends in aesthetically with the rest of your smile.
Benefits of
Dental Implants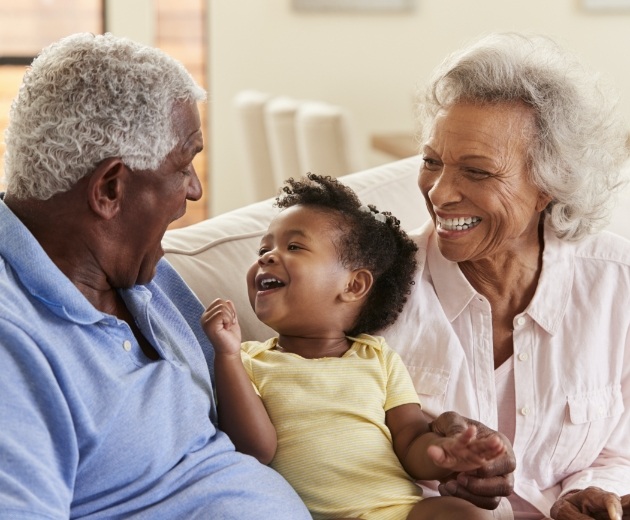 Dental implants provide a level of stability, durability, and comfort that's unmatched by other restoration options, like bridges or traditional dentures. These qualities are because your implant fuses with your jawbone and becomes an integrated part of your oral anatomy.
Because your implants fuse to your jaw, they also provide stimulation to the bone. This stimulation prevents resorption and reduces the likelihood of bone loss in your jaw, which, in turn, helps to preserve the shape of your face. Dental implants allow you to avoid the sunken-in appearance that's a common occurrence with missing teeth.
Dental implants also keep the rest of your smile in proper alignment by preventing your neighboring teeth from shifting into the open spaces.
The 4-Step Dental Implant Process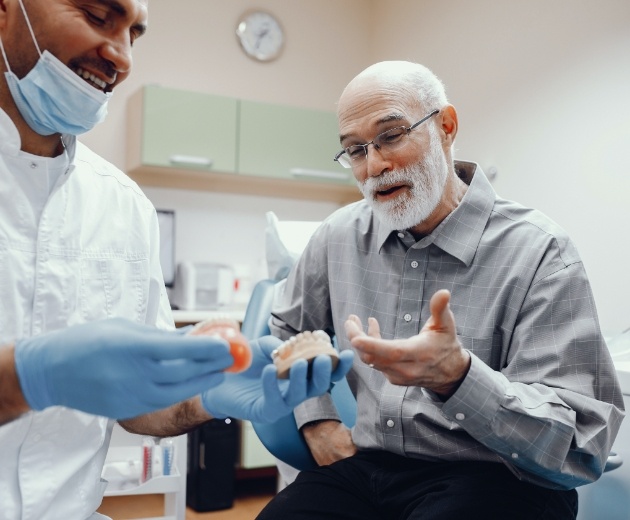 The process for getting dental implants usually looks like this:
First, you need to schedule a consultation to determine whether you are a viable candidate for implants. It may be necessary to perform bone grafts or other preliminary procedures to ensure that your jaw is ready for the surgery.
Once the preliminary steps have been taken care of, we can surgically insert the implant posts into your jawbone.
The dental implant is allowed 3 to 6 months to join with the jawbone. Once it's firmly fused in place, we can attach an abutment, which serves as a connector between the post and the new tooth/teeth.
The last step is the placement of the final restoration, which is typically handled by your regular dentist.
Surgical Dental
Implant Placement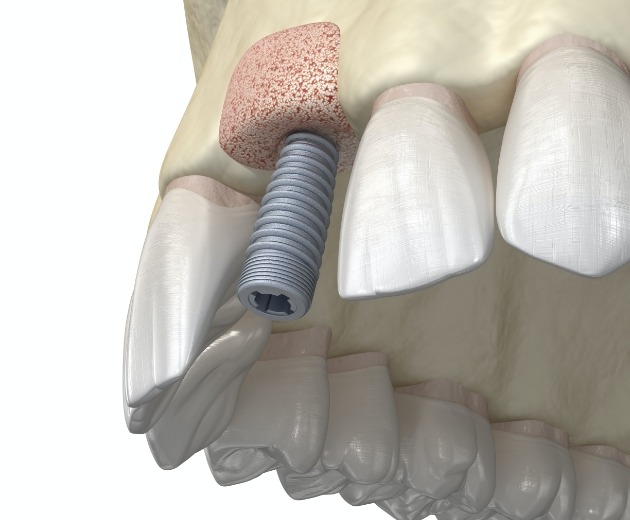 After numbing your mouth, we will make a small incision to open your gum tissue so that we can work with the bone. A hole will be created to insert each dental implant post; the procedure will be carefully planned ahead of time so that we can be sure that the implant is being placed in exactly the right area. After the implants are in place, we'll close the gums again and place a protective cap over the area to aid the healing process.
Are You a Good Candidate for Dental Implants?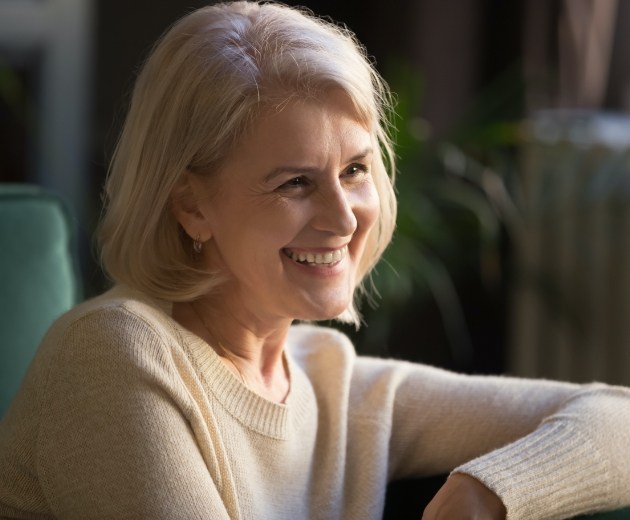 To be a good candidate for dental implants, you need to have an otherwise healthy smile. Two important factors for successful dental implants are healthy gums and substantial bone tissue.
Implants anchor to your jawbone, so you need to have a significant amount of healthy bone tissue in your jaw to support the implant. If you don't have enough healthy bone tissue in your jaw, the team at Northern Virginia Oral, Maxillofacial & Implant Surgery can perform a bone graft to augment your bone mass.
Healthy gums are also important for successful dental implants. If you're suffering from gingivitis or periodontal disease, it needs to be treated before getting implants.
Missing Single Tooth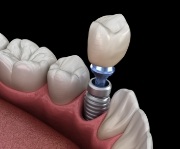 You only need one dental implant to replace a single missing tooth. A crown can be attached to the post once it has been customized to match the shape and color of your other teeth. You'll protect your natural enamel by getting a single implant post instead of a dental bridge.
Missing Multiple Teeth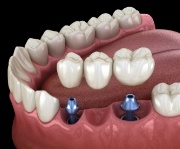 To fill in the empty space left by multiple missing teeth, we can place a pair of dental implants – one at each end of the gap. Then a bridge can be attached to the posts to cover the space. It is also possible to use a small number of implants to support a partial denture.
Missing All of Your Teeth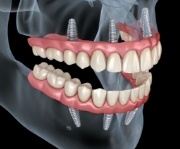 Dental implants can support dentures to replace all your teeth simultaneously. With normal implant techniques, it might take 6 or even 8 implants to support a denture, but with All-on-4, we can minimize the number of implants used while also potentially eliminating the need for bone grafts.
Partners with
Your Dentist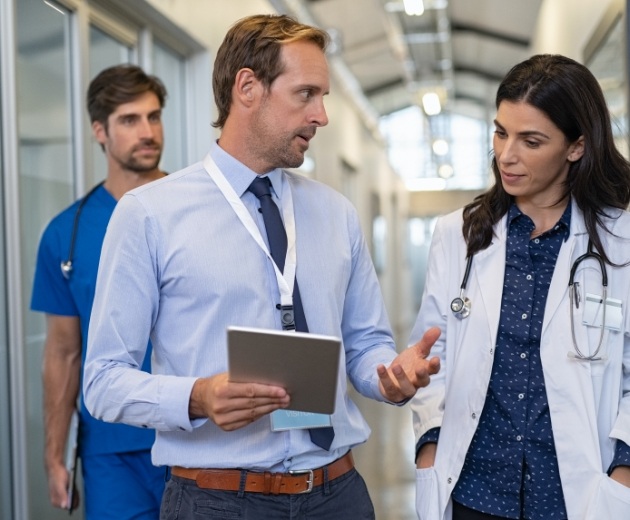 Placing and restoring implants often calls for a team-based approach, which is why your dentist may refer you to us when you decide to get dental implants. Our talented specialists can perform the surgery and some of the necessary preliminary work while your dentist takes the necessary impressions to design the final restoration. Furthermore, your dentist will provide us with important information about your oral health so that we can make any necessary accommodations.
Understanding the Cost of Dental Implants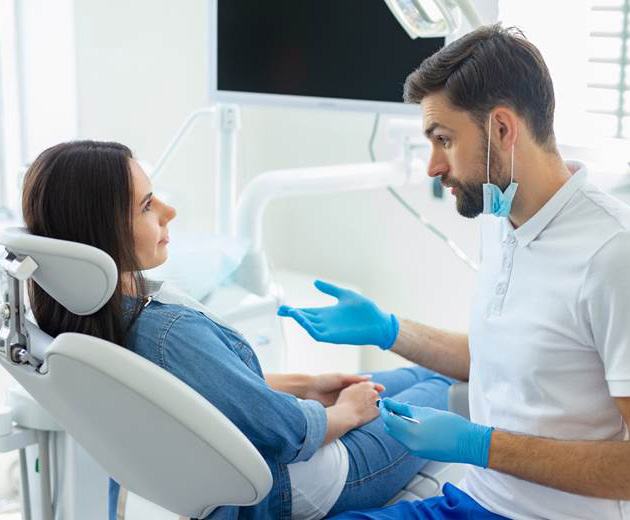 The cost of dental implants can vary based on how many will be placed and whether preliminary treatments need to be performed. You'll also have to consider the cost of the final restoration as well. Remember that the initial cost of dental implants is often balanced out by their lifespan; they can stay in your mouth for decades without needing to be replaced, so you're less likely to need to pay for new ones in the future.