General Anesthesia – Alexandria, VA
Wake Up to
a New Smile
While nitrous oxide, IV sedation, and oral conscious sedation are often enough to keep our patients comfortable, certain procedures call for general anesthesia instead. General anesthesia involves a combination of medications that put you in a sleep-like state so that you don't experience any discomfort during your treatment. Our team at Northern Virginia Oral, Maxillofacial & Implant Surgery has been thoroughly trained to perform general anesthesia in our Alexandria, VA oral surgery office; you can rest assured that your comfort and safety are in good hands.
Why Choose Northern Virginia Oral, Maxillofacial & Implant Surgery for General Anesthesia?
A Staff That Puts Patient Comfort First
Exceptionally Trained
Oral Surgeons
State-of-the-Art
Facility
General Anesthesia
Q & A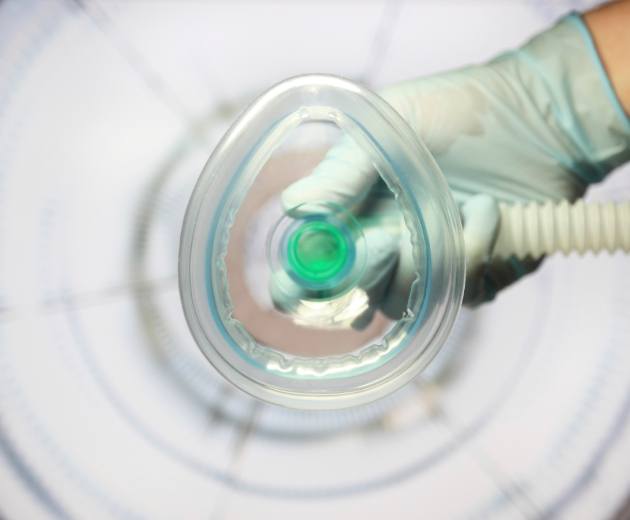 If you have never had a procedure that required general anesthesia before, it's only natural to have a few questions. The ones below cover the basics of the procedure; if there's anything else you want to know, please call our oral surgery office directly so our team can help.
Are oral and maxillofacial surgeons trained in the use of general anesthesia?
Yes. All oral and maxillofacial surgeons, like those at Northern Virginia Oral, Maxillofacial & Implant Surgery, complete at least four years of training post-dental school in a hospital-based surgical residency program.
During this training, the surgeons serve in the anesthesiology department, learning to evaluate patients, deliver anesthetics, and monitor their recovery following treatment. When you partner with the team at Northern Virginia Oral, Maxillofacial & Implant Surgery, you can feel confident knowing you'll receive the best, most comprehensive care.
How is general anesthesia applied?
The team administers general anesthesia directly into your bloodstream using an IV. Before the operation, your provider carefully places a needle in your vein and administers the sedative.
How do I prepare for treatment with general anesthesia?
To achieve the best possible results, your Northern Virginia Oral, Maxillofacial & Implant Surgery provider will ask you to prepare for general anesthesia adequately. First, you should stop eating all food and consuming all beverages (including water) eight hours before your operation. Also, if you use tobacco products, you should put them away at least 12 hours before your surgery.
Second, make sure to have a friend or family member who can drive you home after your operation. General anesthesia knocks you out completely, so you shouldn't operate any heavy machinery for at least 24 hours after your surgery.
Third, wear loose-fitting, comfortable clothing to your appointment and leave all your jewelry, including glasses and earrings at home. You should also avoid heavy make-up, including lipstick or blush.
Last, but not least, let your provider know about any medications or supplements you're currently taking, and whether you feel unwell with, for example, a sore throat, cold, or upset stomach. This is crucial because some medicines can interact with the anesthesia and cause adverse side effects.
What is recovery like after general anesthesia?
Following treatment with general anesthesia, it's perfectly normal to feel groggy and drowsy. Make sure to take at least a full day off work or school and follow your provider's recovery instructions carefully. You should feel like yourself again within 24-48 hours.
If you've been putting off dental care that you desperately need due to fear or anxiety, general anesthesia may be able to help. Make an appointment at Northern Virginia Oral, Maxillofacial & Implant Surgery today!